Real Time with Bill Maher 11x21
June 28, 2013
The Interview:
Anthony Leiserowitz is the Director of the Yale Project on Climate Change Communication, which "investigates the psychological, cultural, political, and geographic factors that drive public environmental perception and behavior."
Twitter: @ecotone2
The Panel:
Kristen Soltis has been described as "the Republican Party's leading millennial pollster" and serves as the Vice President of DC-based opinion research and political communications firm The Winston Group.
Twitter: @KSoltisAnderson
Dan Neil is a Pulitzer Prize-winning journalist and the author of The Wall Street Journal's "Rumble Seat" column, where he reviews everything from the Aston Martin Rapide S to John Deer's latest Gator.
Twitter: @Danneilwsj
Horace Cooper is a writer and legal commentator who serves at the Co-Chairman of the National Advisory Board for Project 21: "an initiative of The National Center for Public Policy Research to promote the views of African-Americans whose entrepreneurial spirit, dedication to family and commitment to individual responsibility has not traditionally been echoed by the nation's civil rights establishment." He is also a partner at Monument Communications.
Adrian Grenier will join the panel mid-show. He is an actor, filmmaker and entrepreneur who recently produced 'How to Make Money Selling Drugs,' a film exploring the failure of American's drug war. It opens in New York on June 26th and Los Angeles on June 28th and is currently available on demand. Adrian recently penned an editorial for The Huffington Post, calling for the "return a sense of rationality and proportion to a justice system that has spun wildly out of control."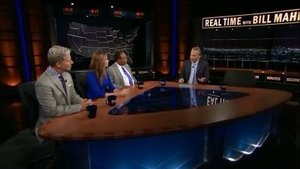 Jun. 28, 2013
Real Time with Bill Maher season 11